NEWS 2001 - 2007

Dec 7 2007 - Tremors Cause Flood in Glacial River Skeidará
The Icelandic Meteorologist Office detected subterranean disturbances near Grímsvötn lakes on Vatnajökull glacier, south Iceland, on Wednesday night causing increased flow of water and electrolytes in Skeidará river, leading from the glacier.

"Then there is no doubt about it; Skeidará has started flooding," Gunnar Sigurdsson, hydrologist and engineer at the National Energy Authority told Morgunbladid. "We expect this to be a large flood."

Once the water level in Grímsvötn lakes has reached a certain height it tunnels its way down through Skeidarárjökull glacier, one of the southern arms of Vatnajökull, and into Skeidará.

This phenomenon is known as Skeidarárhlaup in Icelandic and happens regularly. The last flood in Skeidará took place three years ago and was followed by a volcanic eruption underneath Vatnajökull.

The volume of water in Skeidará yesterday was comparable to a good summer's day and the smell of sulfur was in the air on Skeidamerkursandur plains, through which the river flows to the ocean.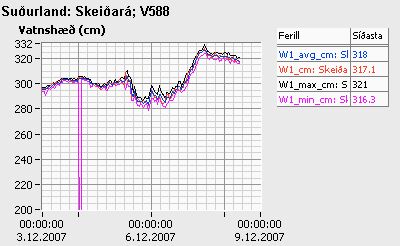 Nov 13 2007 - The sun rises late in October
Iceland Review is popular magazine in Iceland. They have made audio slide show about journey in October from Reykjavik to Jokulsarlon. Vatnajokull.com recomend this article and click on the picture and you wil see the story. Click here.
Oct 13 2007 - Mountaineer to climb 100 summits in one year
The mountaineer Thorvaldur Thórsson has climbed Iceland's 100 highest summits. On Saturday Oct 13. He and his friends, about 80 people finished the last summit, Mt. Hekla. After three days, he will celebrate his 50th birtday.
In middle of June having already summited 47 peaks. Thórsson climbed the country's five highest mountains in one day.

The five highest mountains are all on Vatnajökull glacier: Káratindur, Thurídartindur, Mikill, Heljargnípa and Mávabyggdir and the total distance between them is 50 km, Morgunbladid reports.

"I had a good sleeping bag, an extra bag and a heating device, so if I'd gotten into trouble I could have stayed on the glacier. I had enough food, but the backpack was heavy during the 50 km that I hiked," Thórsson said.

The mountaineer was alone despite the danger of falling into a crevasse in the glacier. He used skis for crossing the glacier, which is safer than hiking by foot.

Thórsson, who works as a computer scientist at Vistor hf., is an experienced mountaineer and ice climber. He has been nicknamed "tindahöfdinginn" or "the summit chief" because of his mission.

August 27 2007 - Missing Israeli tourist found alive
An Israeli tourist in her twenties, reported missing on Saturday, was found alive yesterday in Hveragil ravine in Kverkfjöll mountains in the highlands north of Vatnajökull glacier. About 50 people had been searching for the woman.

Arna Ösp Magnúsardóttir, the ranger in charge of the cabin at Sigurdarskáli, found the woman. "She left [the cabin] on Friday and planned to go on foot through Hveragil and be back at noon on Saturday," Magnúsardóttir told Morgunbladid.

"When she didn't return I started worrying and at 11 pm on Saturday I contacted the [112] Emergency Helpline," Magnúsardóttir said. "On Sunday morning I drove into Hveragil and found the woman." It takes about two hours to drive from Sigurdarskáli cabin into the ravine.

Magnúsdóttir explained the woman had gotten lost in fog on Friday and decided to wait in her tent by a trail until someone found her, which, according to the ranger, was a wise course of action.
The woman was well prepared and in good shape, as she had spent the summer hiking the northeastern part of the Westfjords, Hornstrandir, and cycling around the central highlands.
August 27 2007 - Iceland's commercial whaling put on hold
Minister of Fisheries Einar K. Gudfinnsson announced this weekend that no new quota will be issued for commercial whaling for the next fishing season, beginning September 1, since the whale meat from the current season remains unsold.

"I don't think it serves any purpose to issue new quota allowances when nothing is selling," the minister said, explaining it has taken longer than planned to sell the fin whale meat in Japan, Morgunbladid reports.

Seven fin whales and seven minke whales were caught during the last fishing season, after Iceland resumed commercial whaling last fall.

"We know that there is interest for the meat in the Japanese market," Gudfinnsson stated, explaining several quality issues need to be taken care of before the meat could be sold, which has taken longer than planned. "But I'm sure the market will open up. There is nothing in international laws that prohibits such business."

Gudfinnsson said the meat from the seven minke whales caught was sold successfully on the local market.
Árni Finnsson, head of the Iceland Nature Conservation Association, celebrates the minister's decision. "I think it is very wise move. This way the minister puts the responsibility on the whalers. They have to prove that there is a market for the product in Japan."

"Last year the minister believed they could export the meat, but it didn't work out that way. Now he is taking precautions," Finnsson said, adding that he doesn't think there is any market for the whale meat. "And then the game is over."

August 27 2007 - Search for German tourists called off
Search teams packed up and left Svínafellsjökull glacier on Saturday night after having searched for two lost German tourists since early last week. Search organizers are going to let their teams rest and review the situation.

"We are going to go through our documents and review the evidence again to make sure we followed up on every lead," Vídir Reynisson, the representative of the Commissioner of the Icelandic Police, who is leading the search expedition, told Fréttabladid.

Experienced mountaineers have searched on and around Svínafellsjökull glacier, a sub-glacier of Öraefajökull on Vatnajökull, in the hills of Hvannadalshnjúkur, Iceland's highest peak, and Hrútafjallstindar peaks for the last few days.

On Saturday, almost 200 people searched in 23 groups from daybreak until nightfall. A Coast Guard helicopter, TF-Gná, brought the search teams up to the glacier to save time and searched by air.

According to Reynisson, the area has been searched as thoroughly as possible. "The teams have grown extremely tired and some have hiked the glacier for four days in a row and searched for hours at high altitudes. People need to rest before we continue."
The two young German tourists, Thomas Grundt and Matthias Hinz, were reported missing on August 17, but no one has heard from them since the beginning of August. Their tents were discovered on Svínafellsjökull glacier on Thursday, but since then there has been no sign of them.

The case of the lost Germans has raised questions as to whether tourists who hike in Iceland's highlands are taking enough precautions.

Ragnar Stefánsson, the park ranger in Skaftafell National Park and leader of the emergency service Kári í Öraefum, wants to obligate people who plan to hike Öraefajökull glacier to submit a planned itinerary.

"Many mountaineers think it limits one's sense of freedom, but I think it demonstrates a certain level of curtsey towards emergency services," Stefánsson said.

Skaftafell National Park, the 112 Emergency Helpline, the Icelandic Association for Search and Rescue (ICE-SAR) and several parties within the tourism industry are preparing a brochure, after encouragement from Stefánsson, with information about the dangers involved in hiking Öraefajökull, recommending hikers submit a planned itinerary to 112 before embarking on their journey.

At this time of year, there are many deep crevasses in the glacier.

August 25 2007 - Tents belonging to missing German tourists
Tents belonging to the two German tourists, who have been missing in Iceland since August 17, were discovered by the Coast Guard helicopter TF Gná on Svínafellsjökull glacier yesterday, a sub-glacier of Vatnajökull.

A driver's license belonging to one of the young men, Mattias Hinz and Thomas Grundt, was found, confirming the tents were theirs, ruv.is reports. According to police, the tents were in an odd location.

A Coast Guard airplane transported specially trained search teams from the capital region to the glacier to take over the search, including a special forces police officer and a tracking dog.

The search area has been reduced considerably and is now limited to Skaftafell National Park, west of Öraefajökull glacier on southern Vatnajökull, to which Svínafellsjökull belongs, and on the upper part of Öraefajökull.

The area that is being searched is difficult to cross and is dangerous at this time of year.
August 24 2007 - Tents belonging to missing German tourists discovered
Tents belonging to the two German tourists, who have been missing in Iceland since August 17, were discovered by the Coast Guard helicopter TF Gná on Svínafellsjökull glacier yesterday, a sub-glacier of Vatnajökull.

A driver's license belonging to one of the young men, Mattias Hinz and Thomas Grundt, was found, confirming the tents were theirs, ruv.is reports. According to police, the tents were in an odd location.

A Coast Guard airplane transported specially trained search teams from the capital region to the glacier to take over the search, including a special forces police officer and a tracking dog.

The search area has been reduced considerably and is now limited to Skaftafell National Park, west of Öraefajökull glacier on southern Vatnajökull, to which Svínafellsjökull belongs, and on the upper part of Öraefajökull.

The area that is being searched is difficult to cross and is dangerous at this time of year.
August 23 2007 - German tourists missing in Iceland
The search for two young German tourists, Matthias Hinz and Thomas Grundt, is still ongoing. Search teams were hindered by rain and poor visibility yesterday near Skaftafell National Park in south Iceland.

Fridrik Jónas Fridriksson, leader of the Hornafjördur emergency service, said search teams are concentrating on the area near Skaftafell because the Germans may have been spotted there, Bladid reports.

"Two men matching their description were seen in the highlands, which we are investigating. We have also been told they may have left the region, but that hasn't been confirmed," Fridriksson said.

A group of search teams accounting for 40 people in total hiked to Svínafellsjökull and Skaftafellsjökull glaciers, sub-glaciers of Vatnajökull, which are considered dangerous to cross.

Due to bad weather and another emergency involving tourists in the central highlands, the Coast Guard helicopter was delayed in joining the search.

Seen up Svinafellsjokull. The scene for Batman Begins film was there 2004.

June 21 2007 - Mountaineer to climb 100 summits in one year
The mountaineer Thorvaldur Thórsson plans to climb Iceland's 100 highest mountains this year, having already summited 47 peaks. On Tuesday Thórsson climbed the country's five highest mountains in one day.

The five highest mountains are all on Vatnajökull glacier: Káratindur, Thurídartindur, Mikill, Heljargnípa and Mávabyggdir and the total distance between them is 50 km, magazine Útivera reports.

"I had a good sleeping bag, an extra bag and a heating device, so if I'd gotten into trouble I could have stayed on the glacier. I had enough food, but the backpack was heavy during the 50 km that I hiked," Thórsson said.

The mountaineer was alone despite the danger of falling into a crevasse in the glacier. He used skis for crossing the glacier, which is safer than hiking by foot.

Thórsson turns 50 next fall and hopes to finish his mission by then. According to him, the most difficult mountains are already behind him.

Next he plans to climb Mýrdalsjökull glacier, Hofsjökull glacer or Kverkfjöll mountains. Thórsson said he hoped that by the time he climbs the volcano Hekla, which most people can climb, more hikers will join him.

Thórsson, who works as a computer scientist at Vistor hf., is an experienced mountaineer and ice climber. He has been nicknamed "tindahöfdinginn" or "the summit chief" because of his mission.

June 14 2007 - Where the ice is blue
In Iceland Reviw magazine Zoe Robert write about journey to Vatnajokull. You can read the Daily life article here.

June 10 2007 - Listen to Vatnajökull glacier melt
The British artist Katie Paterson has made it possible for art lovers to listen to Vatnajökull glacier, the largest in Iceland and in Europe, melt with one phone call.

Paterson became fascinated with glaciers on her travels to Iceland and has now established a microphone in Jökulsárlón lagoon at the foot of Vatnajökull, Fréttabladid reports.

Callers can listen to rumbles when the glacier melts, breaks into pieces and icebergs fall into the lagoon. The telephone number is +44-(0)7758-225698.
May 26 2007 - Tourist Association hikes to Iceland's highest peak
Over 100 hikers took part in the Icelandic Tourist Association's (FÍ's) annual Whitsun trip to Hvannadalshnjúkur, Iceland's highest peak, on Saturday. The group was split between 13 guides, who led the hikers up the mountain slope.

Hvannadalshnjúkur was hidden behind low hanging clouds and snowfall caused poor visibility, but the hikers made it to the top anyway.

"It is incredible to have achieved this and I believe many other first-timers agree," Erna B. Einarsdóttir, who hiked to Iceland's highest peak for the first time on Saturday, told Fréttabladid.

This is the third time FÍ has organized a hike to Hvannadalshnjúkur during the Whitsun weekend. According to Einarsdóttir, more applied for the hike than in the last two years and the available spaces were taken by the beginning of April.

Hvannadalshnjúkur is located on the north-western rim of the Öraefajökull volcano on Vatnajökull glacier in southeast Iceland. The peak is 2,109.6 meters high.
April 10 2007 - Glaciers in Iceland melting "faster than ever"
Oddur Sigurdsson, an Icelandic geologist who has undertaken studies of Iceland's glaciers, said the nation's glaciers are melting at record speed and may disappear completely after 200 years due to global warming.
"It is obvious judging by the data that we have that it is first and foremost caused by the heat in summer, which has increased considerably, especially in the last ten years," Sigurdsson told RÚV.
Sigurdsson said he believed global warming is the gravest problem the human race has ever faced.
French geologist Jean-Marc Bouvier, who has undertaken studies of the Greenland ice cap, explained to RÚV that once the Arctic glaciers have disappeared the ocean surface will be nine meters higher than today and flood an area which is currently inhabited by one billion people.
Bouvier described this situation as a "meteorological time bomb" and said "the wick has already been lit."
April 4 2007 - Leanordo DiCaprio and Knut on Jokulsarlon. Cover page May issue of Vanity Fair.

| | |
| --- | --- |
| | Leanoardo DiCaprio and polar bear Knut were filmed at Jokulsarlon in march and covers the Green issue of Vanity Fair. |
March 19 2007 - Largest national park in Europe
Before the parliament in Iceland closed on Saturday, MPs agreed to found a national park at Vatnajökull glacier, which will be the largest national park in Europe.
All political parties agreed on founding the park, which will be called Vatnajökulsthjódgardur, or Vatnajökull National Park, and is scheduled to open next summer. Fréttabladid reports.

Vatnajökull National Park will cover 1/8 of Iceland's surface and include the current Skaftafell National Park and Jökulsárgljúfur National Park.
Minister of the Environment Jónína Bjartmarz announced that she was very pleased with the decision on Saturday
Jan 25 2007 - Marine technology used on glaciers
Rescue services in Iceland are experimenting with a different type of technology to locate people lost on glaciers, a radar that is normally used for locating ships at sea.
The rescue services get dozens of calls every year reporting lost drivers of snowmobiles and jeeps, who were traveling on glaciers, and it is of vital importance to locate them as soon as possible. RÚV reports.

Vilhjálmur Árnason, the managing director of Sónar ehf., which specializes in sailing equipment, said: "Snow and water have many things in common. Both glaciers and the ocean have even surfaces, so vehicles are easy to locate [using the radar]."
Test runs on the glacier have proved successful. "We can locate jeeps at a two-kilometer distance and snowmobiles at a one-kilometer distance. That surpasses my expectations," Árnason said.
Thór Thorsteinsson, a member of the rescue service Ok (which is also the name of a glacier that once existed in west Iceland), said: "Visibility on glaciers is often poor because of drifting snow or fog and people often get lost in that kind of weather. With this technology we can search a much bigger territory with one car."
Oktober 22 2006 - Whaling is affecting tourism

Already there are signs of whaling affecting tourism in Iceland negatively. Iceland's government decided to resume commercial whaling last Tuesday.

Heimir Hardarson, marketing director of whale watching company Nordursiglingar in Húsavík, northeast Iceland, says tourists have already started canceling trips to Iceland.



Hardarson told Fréttabladid last night that his business is clearly being affected by Iceland's decision to resume commercial whaling after a 17 year ban.

Last summer almost 30,000 tourists went whale watching with Nordursiglingar. The first whaler set out to sea on Tuesday, but has not caught any whale yet.

René Baldinger of Swiss travel agency Baldinger Reisen AG sent a written statement to icelandreview.com yesterday, expressing his concerns about Iceland resuming whaling.

Baldinger says: "Already today a few customers called us to see if this was really true. There are enough alternative destinations to go to."

Minister of Environment Jónína Bjartmarz says whale hunting could have a negative impact on Iceland's image. She says she worries about the country's credibility. This is reported in all the main media.

Bjartmarz says there are arguments for and against whaling and that whaling is without a doubt sustainable. She says people's views about whaling are often based on misunderstandings.

Iceland's decision to resume commercial whaling has gotten worldwide attention. Helgi Ágústsson, Iceland's ambassador in USA was interviewed on CNN last night, where he explained the government's reasons for making this decision.

June 25 2006 - New York Times finds the "ultimate road trip" in Iceland
In an article published in the New York Times last weekend, 18. June, Mark Sundeen describes a journey around Iceland on road number 1, commonly known as the "hringvegur" or the Ring Road.

In an article titled "Ultimate Road Trip", Sundeen describes the landscape as "sublime and melancholy" and imagines that "this was how it felt to drive California's coast 75 years ago, downshifting on the sharp bends in the gravel road, idling before a one-lane bridge while an oncoming car made its crossing."

Sundeen concludes: "I could have stayed there forever."

Link to New York Times
May 10 2006 - Höfn
The three-tongued glacier has begun to melt.
What will we do, they ask, when boulder-milt
Comes wallowing across the delta flats

And the miles-deep shag ice makes its move?
I saw it, ridged and rock-set, from above,
Undead grey-gristed earth-pelt, aeon-scruff,

And feared its coldness that still seemed enough
To iceblock the plane window dimmed with breath,
Deepfreeze the seep of adamantine tilth

And every warm, mouthwatering word of mouth.
The poet Höfn by Seamus Heanys in the new poetry book District and Circle.
See article in The Guardian.

May 5 2006 - DirPedia.com - combining a dictionary, an encyclopedia and a web directory tells us from Vatnajökull.
Vatnajokull is the largest glacier in Iceland. It is located in the south-east of the island, covering more than 8% of the country. With a size of 8,100 km², it is the largest glacier in Europe in volume and the second largest (after Austfonna + Vestfonna on Nordaustlandet, Svalbard) in area. The average thickness of the ice is 400 m, with a maximum thickness of 1000 m. Iceland's highest mountain, Hvannadalshnjúkur (2,110 m), is located in the southern periphery of Vatnajökull, near Skaftafell National Park. It is classified as an ice cap glacier. Under the glacier, as under many of the glaciers of Iceland, there are some volcanoes. The volcanic lakes, Grímsvötn for example, were the sources of a large glacier run in 1996. The volcano under these lakes also caused a considerable but short-time eruption in the beginning of November, 2004. Vatnajökull has been shrinking for some years now, possibly because of climatic changes and recent volcanic activity.

April 22 2006 - Skaftá in Iceland floods. Tourists warned on Sulfur Contaminationy
Skaftá, one of the rivers south of Vantajökull glacier started flooding this morning. The Civil Protection Department has issued a warning that tourists should be aware that the sulfur level in the air is dangerously high. You can smell the sulfur in the beginning but when the level is dangerously high the smell disappears.

| | |
| --- | --- |
| | The flood started this morning and at 15.00 the water has increased considerably but nowhere close to what is expected at peak level. The flood had been expected by experts and they think the flood will be at its peak within two days. |
March 3 2006 - Record temperatures in February
Reykjavík experienced the warmest February since 1965 last month, reports daily Morgunbladid. The average temperature in the capital measured 3.3 degrees -- 2.9 degrees above average February temperatures.

According to the Icelandic Meteorological Office, it was the fourth warmest February since 1866 when meteorological measurements started. 1932 and 1965 saw substantially higher temperatures. In 1964, it was just a little warmer and in 1929 the temperature was approximately the same as this year.
Precipitation was also above average in southern and western Iceland last month, measuring 87mm, 20% over average precipitation.
The sun shone for 58 hours in Reykjavík last month, six hours above average.
The lowest February temperatures this year were at the glacier Brúarjökull, - 25.8 degrees, while Seydisfjördur experienced the highest temperatures, 16.2 degrees.
Februar 20 2006 - Earthquakes in Bardarbunga
Earthquakes, the largest reaching 2.9 on the Richter scale, were registered in Kistufell (1.444 m) near Bardarbunga.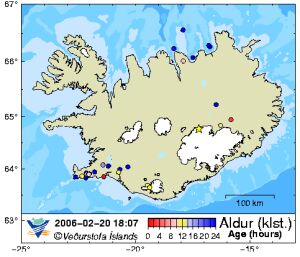 Yellow star in north part of Vatnajokull shows eartquake.

Oktober 20 2005 - The Brúarjökull Project: Sedimentary environments of a surging glacier
Fast flowing ice or palaeo-ice streams have recently been identified as one of the most important controls on the configuration and stability of former ice sheets. The problem, however, is the lack of contemporary analogues for land based ice streams that is necessary to understand their glacio-dynamic behaviour. Despite this, a certain type of glaciers (surging glaciers) that momentarily reaches fast ice flow actually provides an imprint of sediments, landforms and landform assemblages that resembles the situation related to ice streams. The overall aim of the Brúarjökull project is directed towards the study of depositional environments at a contemporary surging glacier. This includes the development of glacial landscapes and associated sediments. Thus, it embraces the interaction between climate-processes-sediments and landforms over time and space involving glaciological, geomorphological, sedimentological and glacial geological disciplines. The results will serve as reference work and inspiration for geomorphological and geological investigations in areas suspected to be influenced by palaeo-ice streams. Reconnaissance work was carried out during the 2003 field season, continued field work was in the Brúarjökull glacier forefield area in 2004, and is planned for the 2005 summer, with an international research team comprising up to 10 members.

Project description by Kurt Kjær and Ólafur Ingólfsson
August 29 2005 - Shrinking Icelandic glaciers
In the last ten years Snæfells Glacier has retreated at a fast pace due to warmer weather and shrunk a great deal reports
Morgunbladid.

"The weather is always getting warmer and the glacier is not as beautiful as before," said Leifur Ágústsson, a farmer in Mávahlíð in
Snæfellsbæ. He said crevasses that one did not see before can now easily be seen from far away.
Tryggvi Konrádsson, owner of Snjófells, a travel service at Arnarstapa, agreed with Leifur, and said that the edge of the glacier has
retreated. He said that he is not worried and that "it will snow again".
According to a geologist from the Energy Institute, Oddur Sigurdsson, Icelandic glaciers have shrunk rapidly in the last decade. He said
that this was especially evident on Snæfells Glacier, a glacier which had been growing for over 25 years.
"There has been a lot of snow on the mountain in the past," said Oddur, "now we just see the bare glacier."
He said that there is no need to worry, the glacier is not about to disappear even though temperatures continue to rise. Oddur
explained that because of the retreat, the glacier is not advancing as much as before, therefore new crevasses are less likely to form. He
said that the older crevasses become more visible when the snow covering them melts. Oddur also said that glaciers are usually most
dangerous to traverse when they are growing but one should always be cautious. Source: http://www.icelandreview.com
July 19 2005 - Protestors Arrested at Dam Site
Eighteen protestors succeeded in stopping work for over two hours yesterday at the site of the controversial Kárahnjúkar hydro-electric development in East Iceland. The river is Jökulsá á Brú, coming from Brúarjökull one of Vatnajokull's small glaciers. The protestors entered the work area and chained themselves to trucks and other equipment or lay in front of vehicles. The police from nearby Egilsstaðir arrested 13 protestors, who offered no resistance. The remaining five had left by the time police arrived. Ómar R. Valdimarsson, spokesperson for Impregilo, the main contractors at Kárahnjúkar, said that charges will probably be laid.

Birgitta Jónsdóttir, one of several other protestors at a camp site near the hydro-electric project, said that Icelanders did not take part in this particular demonstration, although everyone was staying at the same camp. "Everyone is here on his or her own volition, and personally I have nothing against action of this kind as long as lives are not put at risk".

June 3 2005 - Archaeologists discover 14th century farm
"It is as if the buildings had been abandoned yesterday" says archaeologist Bjarni F. Einarsson in Morgunblaðið today. The farm he and his colleagues recently discovered was buried under ash in an eruption in glacially capped volcano, Öræfajökull.

At 2111 meters, Öræfajökull is Iceland's highest mountain, sticking out of the southeast corner of Iceland's largest glacier, Vatnajökull.

The farm is close to the town of Fagurhólsmýri and was laid waste in an eruption in 1362. There had long been rumors of an abandoned farm in the Fagurhólsmýri region, and in 2001 Bjarni and his team started surveying the area. The excavation started last summer and the archaeologists soon traced the outlines of several houses. This spring, they have continued their work, mapping out the detailed structure of each dwelling.

When the excavation is completed, the local archaeological society plans to turn the site into a landmark open to visitors.
May 3 2005 - Whale watching bomb!
The .com bomb is over but the Whale bomb is still active in Iceland. The whale watching tours started in Höfn, In The Realm Of Vatnajokull, by Glacier Tours company. In following table you can see the growth in whale watching in Iceland.

| | | | |
| --- | --- | --- | --- |
| | Place | WWC | Pers. |
| 1990 | 1 | 1 | 6 |
| 1991 | 1 | 1 | 100 |
| 1992 | 0 | 0 | 0 |
| 1993 | 1 | 1 | 150 |
| 1994 | 3 | 4 | 200 |
| 1995 | 6 | 8 | 2.200 |
| 1996 | 8 | 9 | 9.700 |
| 1997 | 10 | 13 | 20.540 |
| 1998 | 8 | 12 | 30.330 |
| 1999 | 7 | 10 | 35.250 |
| 2000 | 9 | 12 | 44.000 |
| 2001 | 10 | 12 | 60.550 |
| 2002 | 10 | 12 | 62.050 |
| 2003 | 10 | 12 | 72.200 |
| 2004 | 10 | 12 | 82.000 |

Source: Björgvinsson, 1999; Hoyt, 1994b; Hoyt, 1995a; Data from SI.
December 2004 - Eruptions in Vatnajokull from 1902
The eruption in Vatnajokull in November was number 13 from 1902. Over 50 eruptions have occured in Vatnajokull since Iceland was settled in the year 874. Source: THE ICELANDIC METEOROLOGICAL OFFICE

| | |
| --- | --- |
| 2004 | Grímsvötn |
| 1998 | Grímsvötn |
| 1996 | Gjálp |
| 1983 | Grímsvötn |
| 1954 | Grímsvötn |
| 1945 | Grímsvötn |
| 1938 | Grímsvötn |
| 1934 | Grímsvötn |
| 1933 | Grímsvötn |
| 1922 | Grímsvötn |
| 1910 | Þórðarhyrna |
| 1903 | Þórðarhyrna |
| 1902 | Grímsvötn |

November 16 2004 - Amazing Race - the sixth edition
The sixth edition of THE AMAZING RACE began in downtown Chicago as Teams made their way to Reykjavic, Iceland. Race in rural Icelandic landscape. Drive vehicles to Seljalandsfoss waterfall to find theri nest clue behind a torrent of water. Then to Vatnajokull, biggest glacier in Europe.

A Detour is a choice between two tasks, each with its pros and cons. In this Detour, Teams had to choose between Ice Climb and Ice Search.

More story about the Amazing Race
November 6 2004 - Vatnajokull's eruption Ceasen
The volcano at Grímsvotn ceased today (Saturday). Seismic activity stopped on Friday, and the last emissions were observed early today. The eruption began on Monday, November 1.
A fly-over after the eruption revealed a new caldera in Grímsfjall mountain.

November 5 2004 - Small activities in eruption in Grímsvötn
The volcanic eruption at Grímsvötn is still going, though activity is easing

Picture from Science Institute University of Iceland - Magnus Tumi.
November 4 2004 - Eruption in Grímsvötn Continues
The volcanic eruption at Grímsvötn is still going, though activity is easing today. Seismic activity today measured 3.3 on the Richter scale, down from 3.7 two days ago, when activity was first measured.
Ash from the volcano has travelled as far as Finland.
November 1 2004 - Eruption in Vatnajokull
A volcanic eruption occurred on Vatnajokull glacier, at 20:10 local time. The exact location of the eruption was Grimsvotn, which is on the western portion of Vatnajokull, Europe's largest glacier
The eruption peaked at 3.7 on the Richter scale and continued through the evening. Visual confirmation was impossible, as heavy rain and winds of up to 20 mps limited visibility in the area.
The Meteorological Office issued warnings to aircrafts to avoid the gasses emitted from the volcano at 22:00 local time. No evacuations were necessary.
The eruption is believed to have been caused by expansion of a lake underneath the Vatnajokull glacier.
"The water is under extreme pressure from the glacier. We believe it could open a part of the Grimsvotn mountain side, causing the release of some magma, though this can not be confirmed without visual identification," explained Oli Thor Arnarsson, Forecaster on duty at the Meteorological Office.
Grimsvotn last erupted six years ago. It also erupted in 1996 and 1993, causing flooding in the largely uninhabited area.
Grimsvotn lies on the Atlantic Rift, the meeting of the Euro and American continental plates. The three major volcanoes of Iceland, Hekla, Katla and Grimsvotn lie on the same fault line. Hekla last erupted in 2000.
Oktober 31 2004 - Flood in Skeidara
The Skeidará River has been flooding for the last two days.
| | |
| --- | --- |
| | A high-tech measuring device has been placed in the river and it was this that announced the beginning of the flood. The flood is bigger than 2002. |
September 12 2004 - Skaftafell National Park, biggest national park in Europe
Former environment minister, Siv Friðleifsdóttir showed the world in Skaftafellsstofa, Visitor Centre in Skaftafell, new and bigger National Park.
| | |
| --- | --- |
| | The new Skaftafell National Park is 4.807 km2 and covers 57% of Vatnajökull ice-cap and Laki area. This is first step in progressing the whole ice-cap and surrouinding in Vatnajokull National Park. |
September 11 2004 - 22.000 kilos iceberg from Jokulsarlon to Paris
On September 27, an Icelandic exhibiton start in Paris. An 22 ton iceberg was transfered from Jökulsarlón and will be placed in front of Palais de la Découverte. Name of the show is: Islande, de glace et de feu.
Islande, de glace et de feu est la plus grande manifestation culturelle islandaise jamais organisée en France.
Du 27 septembre au 10 octobre 2004 la culture islandaise sera à l'honneur à Paris et en régions.
Islande, de glace et de feu est un voyage au cœur d'un pays qui interpelle notre imaginaire.
3 thèmes forts se dégagent de la programmation de cette quinzaine culturelle:
-Raison et déraison, sciences et nature:
-Avant-garde et création dans les domaines de la musique et des arts plastiques.
- Une exploration des sources de l'Imaginaire islandais, pays des sagas et des elfes par le biais de l'histoire, de la littérature, du cinéma et du théâtre.
Offical web site: Islande de glace et de feu
August 14 2004 - Beowulf and Grendel
Icelander to begin filming Beowulf and Grendel.
| | |
| --- | --- |
| | Icelandic/Canadian director Sturla Gunnarsson will start production for the live action film of the ancient poem Beowulf. The filming will begin on the 16th of August. Gerard Butler and Icelandic actor Ingvar E. Sigurdsson will play in the movie as the warrior Beowulf and his nemesis Grendel respectively. Also appearing will be Canadian actress Sarah Polley. |
The film will be made on location in Iceland near Höfn and Vik and, according to Sturla, will not use any digital effects as many movies of recent years have done when recreating epic battles.

The story of Beowulf is said to have had a major influence on the writings of J.R.R. Tolkien, author of the Lord of the Rings trilogy.
March 15 2004 - Cameron Smith crossing Vatnajokull
Cameron Smith, professional archaeologist based in Portland, Oregon, USA started crossing Vatnajokull in begining of March. He has 30 km left today and has got bad wether in last day's.
His goal is to make a solo winter 'round-trip' crossing of the Vatnajokull Icecap, Iceland. He will travel on ski, pulling a sledge loaded wth food and equipment. He started on the West side, ascend to the 1,500m (roughly one-mile)-high ice plateau, cross the plateau to the East side, descend, and then turn around to retrace steps and return to starting point, a round-trip journey of roughly 320 km miles (c.200 miles). Here is his offical website.

March 3 2004 - Batman Begins
The fifth Batman movie is currently being filmed in Iceland. The film crew counts around 200 people and among the actors are Michael Caine, Morgan Freeman, Liam Neeson Katie Holmes and Christian Bale. Bale and Neeson are already in Iceland. A spokesman for the producers will not disclose where the filming is actually taking place, but they are neaer national park Skaftafell and glaciertounge Svinafell in south-east Iceland

Jan 31 2004 - Tourists in Iceland 2004
The Icelandic Travel Industry Association estimate 350.000 tourist to Iceland on this year. It is about 30.000 more than last year.
Okt 21 2003 - Whales and Tourists
Iceland's six-week, scientific whaling programme did not have a major effect on tourism. In the short run there was a negligable effect, but that it wouldn't last.

The government's whaling prorgamme ended last month. On the last day of September the 36th and last minke whale where culled during the government's scientific whaling programme. The original quota called for whalers to cull 38 minke whales. 36 is enough to conduct experiments. The Institute plans to conduct various experiments on the whales, from testing whale tissue for pollutants to hormonal research conducted by marine biologists.

Over the first seven months of 2003, tourism in Iceland has increased by 12 per cent from last year.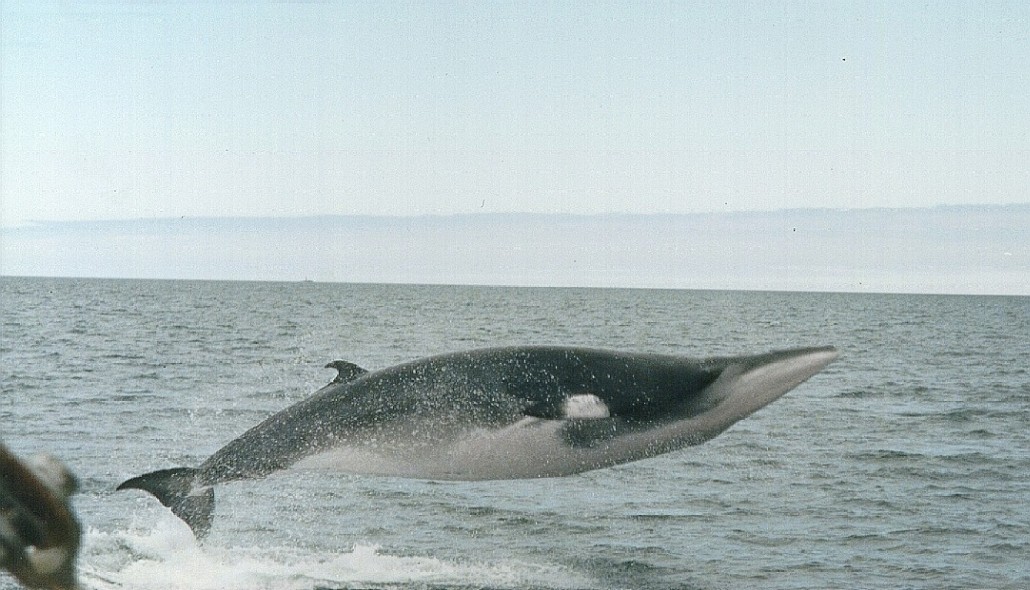 Aug 21 2003 - Minke Whale Research
According to Gísli Víkingsson, project director for the minke whale hunt, the animals caught in August and September will be researched very carefully. The main aim of this research is to aquire knowledge on the "food ecology" of minke whales off the Icelandic coast. Samples will be taken from their digestive system, and blood and tissue samples will be taken to investigate diseases and the amount of pollutants in different organs. The two whales caught already have been used in this way. Says Víkingsson, "This is the most thourough research ever done on whales." The minke whales are dissected on the whaling boat and the samples are taken to Reykjavík. The whale meat, however, goes on the market, in accordance with the rules of the IWC, which say that the meat of hunted whales should be used.
Aug 18 2003 - Iceland Kills First Minke Whale
The crew of the whaling vessel Njördur killed its first whale for the Icelandic government's "scientific whaling" programme, which was launched last Sunday, according to Iceland's Marine Research Institute.

According to the Institute, Njördur, one of three whaling vessels issued government permits to hunt whales, killed the first of 38 minke whales that are to be culled over the next six weeks

Samples have already been taken from the whale and sent to a laboratory to determine what food the whale eats, if it has a concentration of pollutants, and overall health.

The Icelandic government has said that it's necessary to measure the whales' effect on the surrounding fish stocks.
The hunt, which is taking place amidst protests from environmental groups and many foreign governments, including the US which has threatened possible sanctions against Iceland, marks the first time that whales have been culled in Icelandic waters since the government put a moratorium on whaling in 1989

Jun 23 2003 - Largest Lobster Yet
The largest lobster ever caught in Iceland was nabbed off the south coast, Skeiðarárdýpi, sout of Skaftafell National Park. The beast measured 46 cm in length from tail to claw, and weighed 411 g. The tail was 81 mm. Its claws alone were 27 cm long. Proud fishing trawler Thorsteinn GK-16 made the catch.
| | |
| --- | --- |
| In next weekend The Lobster festival is in Höfn. Lobster is very important in this town. The festival started in 1993. The biggest festival was in 1997 when the town Höfn was 100 years old. About 4000 extra people celebrated. | |
Jun 10 2003 - Whale Embryo in Húsavík
The Whale Centre in Húsavík received a whale embryo last year as a gift and recently the embryo has been put on display in a glass case. Formaldehyde was injected into the embryo, and the seawater in the case also contains three per cent formaldehyde. The embryo is from a minke whale, which beached at Höfn in Hornafjördur last year. The specimen is 150 centimetres long and weighs around 40 kilos.


Nov 22 2002 - James Bond film - Die Another Day

The James Bond film, Die Another Day was released in UK on Nov. 20 and in US two days later. Part of the film was filmed in Iceland on frozen ice lagoon at Jokulsarlon. We have got many visits and requests because of the film.
"You are now famous in the UK" was in one e-mail.

Nov 19 2002 - Bárðarbunga (Bardarbunga) shrinking
Several earthquakes, the largest reaching 3.1 on the Richter scale, were registered in Bardarbunga.

Okt 21 2002 - Öræfajökull shrinking
Several earthquakes, the largest reaching 3.9 on the Richter scale, were registered north of Öræfajökull glacier (part of Vatnajökull glacier, southeast Iceland), west of the Esjufjöll Mountains, around 3 AM this morning.

According to Ragnar Stefánsson, seismologist at the Icelandic Meteorological Office, this area is closely related to the volcanic system of Öræfajökull glacier, but slightly north of the main volcano. Stefánsson added that Öræfajökull glacier is known for its volcanic activity, and that eruptions are quite common there.

The largest of its four recorded eruptions occurred in 1362; all have been destructive, owing to the devastating floods caused by melting ice. In 1727 was the second eruption sinch Iceland was settled 874. Its highest peak, Hvannadalshnúkur (6,950 ft/2,119 m), is also the highest point in Iceland.



Sept 24 2002 - Vatnajokull shrinking
On average, Vatnajökull glacier is receding 37 cm per year, reports glaciologists from the Geoscience Society of Iceland.
Scientists state that since 1995, Vatnajökull, Europe's largest glacier, has lost up to one per cent of its entire mass. This average has been computed from data collected on the glacier since 1996.

Since 1995, the glacier has shrunk 5 m in water volume, says Finnur Pálsson, a scientist from the University of Iceland.
"If we look at the past decade, it appears that the glacier is 2.7 m thinner than it was in 1992, with measurements based on water volume," Pálsson said.
"But there is no reason to be worried about the glacier thawing out, because it's normal for glaciers to vary in their size from year to year," he added.

Sept 20 2002 - Flood In Skaftá River
The flood from the glacial river Skaftá is slowly decreasing. The river crested yesterday morning at 650 cubic m/s. This morning it had decreased to 521.2 cubic m/s. Normally running at 50 cubic m/s and it can take up to two weeks for the river to reach its normal level.

Sept 15 2002 - Water Rich
Plans to profit from the exportation of Icelandic water have failed, despite the fact that Iceland has the largest supply of fresh water per capita in the world. Reports indicate that each year, Iceland has 666,667 cubic meters of water available per person. This is 50 per cent more than the Republic of the Congo, which is in second place.
A liter of drinkable water can go for up to ISK 40 on the international market.

July 12 2002 - Flood Fears
Scientists from the UK have detected signs of unusual geothermal activity beneath two different glaciers in Iceland, reported 'BBC News Online' yesterday.
On the western edge of the Vatnajökull glacier, the scientists have discovered two deep depressions, while beneath Mýrdalsjökull glacier (south-central Iceland), increased seismic movements have been recorded, a possible indicator of a volcanic eruption.
The scientists told 'BBC News Online' that there is little threat at present, but that they cannot predict how the activity on the different glaciers may develop.

July 8 2002 - Glacial Flood Reaches Its Maximum
Earlier this morning the flood from the glacial river Skaftá reached its maximum, at 06.50 in Sveinstindur mountain. At that time the flow was measured at 647 cubic metres per second. It is estimated that the flow running near inhabited areas will reach its maximum between 19.00 and 20.00 tonight.
At this time it is still not certain whether the flood comes from the larger (eastern) or smaller (western) kettle in the western part of Vatnajökull glacier. It is, however, considered most likely that the flood is runing from the smaller one. This can only be confirmed by flying over the glacier and investigating it carefully.
The last flood from Skaftá glacial river was in the year 2000 when two floods came, one from each kettle, all within one week.

April 15 2002 - Humpback whale beached
A humpback whale beached last night near the shore at Ósland in Hornafjördur. It is thought likely that the whale followed a shoal of capelin into the mouth of the river, which is very shallow. At 22.00, fishermen had managed to put a rope around the whale's tail and tried to tow him into deeper water. The whale was very weak and all their efforts to tow it away were in vain. The whale died this morning.
| | |
| --- | --- |
| | The whale was 12 meters long and provided two and a half tonnes of meat. The meat was free of charge to whoever wanted it, as it is forbidden to sell the meat of a stranded whale. |
April 14 2002 - Flood in Skeidará River
The Skeidará River has been flooding for the last few days and reached its maximum flow yesterday at 630 cubic metres per second. The river, situated in southeast Iceland, floods every year due to geothermal activity in the Vatnajökull glacier, at the Grímsvötn lakes.
A high-tech measuring device has been placed in the river and it was this that announced the beginning of the flood. The National Energy Company intends to place more devices such as this around the country.

March 7 2002 - Earthquakes in Myrdalsjökull
This year, over 600 tremors have been registered on Myrdalsjökull glacier, south Iceland.

According to Erik Sturkell, a geologist at the Icelandic Meteorological Office, this increased activity does not signal changing geological patterns.
March 6 2002 - "James Bond 20" on Jokulsarlon

| | |
| --- | --- |
| | Crew of 200 people have been filming part of next James Bond film which will be relesed in November 22. This project takes 3 weeks. |
January 28 2002 - Sand storm on Myrdalssandur
This image was taken on January 28, 2002 and show sandstorm on Skeidararsandur.
There is snow on north, east and on highland, but south west part is without snow.
Photo: nasa
January 16 2002 - Vatnajokull Shrinks
Iceland's, and Europe's largest glacier Vatnajökull is shrinking. According to glaciologist Helgi Björnsson, the glacier has receded by one metre per year in the last two years due to little snow and a warmer climate. Björnsson expects another metre-thick layer of ice to disappear this year.

Vatnajökull is 400 metres thick on average, reaching 900 metres in some parts, but according to Björnsson, it could take much less than 400 years for it to disappear. "If this evolution continues, the country's glaciers will look pretty miserable by the end of the century."

January 10 2002 - Bond on Ice - "Bond 20" filmed In The Realm Of Vatnajokull Glacier
Location scouts working for the production company for the 20th 'James
Bond' film have expressed interest in Iceland. However, initially the interest
arose not in the island's striking landscape, but in its rescue helicopters.

Locations under consideration include the area around the Jökulsárlón glacial lagoon and the Skálafellsjökull glacier.
January 9 2002 - Weekly Flights between Egilsstadir and Düsseldorf
A contract was signed yesterday on the launch of weekly flights between
Egilsstadir in east Iceland and Düsseldorf, Germany. The contract was
signed by German airline LTU, travel agency Terra Nova-Sól hf, The
Iceland Tourist Board, the East Iceland Development Bureau and the East
Iceland Tourist Board.
LTU will begin flights on 7 June and will fly weekly until 30 August to and
from Egilsstadir airport. They will be using a 180-seater Airbus plane and
have agreed to market the flights in Germany for a budget of 10 million
krónur. LTU plans to offer flights from Munich to Egilsstadir in 2003 and
from Munich to Akureyri, north Iceland, in 2005.
It means you can go direct to Vatnajokull glacier from Egilsstadir.

January 8 2002 - Flood in Jokulsa aFjollum
At 7 pm secure system alerted flood (480 m3/s) had started in Jokulsa a Fjollum. The water came from Kverkfjoll in Vatnajokull.

September 25 2001 - Extensive flooding in south-east Iceland
The river Súla and the Núpsvötn lakes near the Vatnajökull glacier in south-east Iceland have been extensively flooded. A group of geologists
flew over the area yesterday and confirmed that the floods are from Grænalón lagoon (18 sq.km) an ice-dammed lake at the glacier. The river smells strongly of sulphur which is unusual and geologists are doing further research.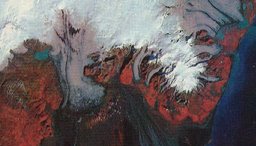 The floods this year are the largest since 1986 and we don't know why there
is so much sulphur in the water.

September 11 2001 - Snæfellsjökull Shrinks
The glacier Snæfellsjökull, in west Iceland, made internationally famous in the Jules Verne novel 'Journey to the Centre of the Earth', is shrinking at a steady rate. According to Helgi Björnsson, scientist at The University of Iceland, the reason for this shrinking is the lack of snow in recent years.

"This process is getting faster and faster. If the weather continues as it has in the last five years, most of the large glaciers will have been greatly reduced at the end of this century and the smaller ones will have disappeared."

June 19 2001 - 'It was magic' Lara Croft: Tomb Raider
Part of the film Lara Croft:Tomb Raider was filmed on Vatnajokull and Glacial Lagoon last year. Star of the film Angelina Jolie said:
"So she worked to turn herself into Croft. That meant lifting weights, shooting heavy guns, paddling canoes, jumping with bungee cords and riding a dogsled. The movie took her from the chill of Icelandic glaciers to the tropical beauty of Cambodia's Angkor Wat.

The travel in particular, said Jolie, broadened her horizons.


"Iceland was amazing -- being on a glacier the size of Wales and going with dogs on amphibious vehicles into this water, that -- if you fall into it -- you've got about four minutes to live," she says." -
Angelina Jolie as Laura Croft in Tomb Raider on CNN web

May 28 2001 - GLACIER EXHIBITION At Höfn.
In the Southeast at the town of Höfn, with horizons dominated by glacial ice, an exhibition on glaciers has now been set up, crowned by the magnificent neighbour Vatnajökull. Here knowledge of glacial properties and their effects on the environment and society gains focus and comes alive through the help of selected scientists, scholars and artists. Presentations include informative boards of text and pictures, photographs, a movie, artwork and instruments old and new, all relating to glaciers. In fact, the exhibit spreads through the entire district, with indicated stops where one can observe evidence of glacial activity.
We hope that all our guests will enjoy and learn from their visit.

Natural science, cultural information, arts, lectures every second tuesday, store with souvenirs and quality Icelandic crafts.
Open daily 10 am - 6 pm June, July and August. More info here

April 19 2001 - Breidarmerkurjökull has recessed 2 km from 1973.
Images from Landsat 1 on September 22, 1973 and Landsat 7 on September 23, 2000 show the almost two kilometer (1.2 mile) recession of the Breidamerkurjökull over the 27 year period. It means Jokulsarlón is increasing. See more http://www.gsfc.nasa.gov/GSFC/EARTH/iceland/glacier.htm

March 11 2001 - More earthquakes in Bardarbunga
Earthquake registering 2,6 on the Richter Scale was detecte at 18.21 P.M. New period of eart quakes is starting.

February 2001 - Vatnajokull National Park
Next year, 2002 is the year of the mountains and because of this event the Governent of Icelnad will declear Vatnajokull ice-cap and it's area, The Vatnajokull National Park. Our popular television newsman Ómar Ragnarsson has suggested to call the new national park "Íseldagardur" or "Ice and Fire park". He think it will be better than Vatnajokull National Park for marketing reasons.

February 25 2001 - Earthquake in Bardarbunga
Earthquake registering 3.0 on the Richer Scale was measured In The Realm Of Vatnajokull, on Bardarbunga at 04:18 a.m.

January 29 2001 - Big Tremor
A tremor registering 3.4 on the Richter Scale was measured in the Vatnajökull Glacier area at one a.m., during the night. According to Þórunn Skaftadóttir, geologist at the geology department of the Icelandic Meteorological Institute, the tremor was recorded six kilometres east of Hamarin, in the western part of the glacier.
In the daily Morgunbladid, Skaftadóttir commented that it is common for there to be small tremors in this area, but this (most recent) tremor was stronger than usual. She added that there were no tremors detected yesterday during the day, and that last night's tremors do not necessarily mean that there are bigger tremors to come.
Skaftadóttir added that this most recent tremor should not cause alarm since the nearest buildings were far away.