The sixth edition of THE AMAZING RACE began in downtown Chicago as Teams made their way to Reykjavic, Iceland. After a major mistake, best friends Meredith & Maria fell way behind in a drive across the beautiful, rural Icelandic landscape, but caught up when Teams camped overnight on a glacier. At the Detour, most Teams chose to scale a wall of sheer ice, but high school buddies Avi & Joe struggled when opting to search for a buoy in an expansive lagoon. While dating actors Hayden & Aaron claimed first place, Avi & Joe made a critical error when pulling into the wrong entrance at the Pit Stop, resulting in their elimination.
READY, STEADY, GO!
Cruising in speedboats along the shores of Lake Michigan, eleven Teams of two people arrived at Buckingham Fountain in downtown Chicago, where host Phil Keoghan welcomed them for the start of THE AMAZING RACE. After informing the Teams that there would be four non-elimination legs over the course of the Race, Phil signaled the start, and Teams raced to their bags, where they learned they would be flying to Iceland on one of three flights, all landing within five minutes of each other. Taking the Blue Line train to O'Hare Airport, father and daughter Gus & Hera decided to team up with Hayden & Aaron and Joe & Avi in a secret alliance, hoping to bump off other Teams, especially married entrepreneurs Jonathan & Victoria because, according to Gus, Jonathan is "a pain in the ass." Almost immediately, the new alliance found themselves in peril as their chosen flight to Iceland through Boston, scheduled to land first, was delayed. Gus commented, "It's disconcerting that we thought we were ahead and now we're behind."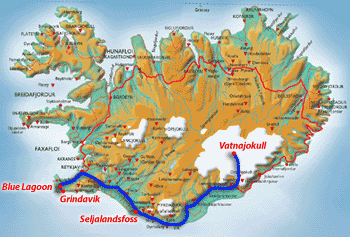 Landing in Reykjavic, Iceland in first place, dating models Freddy & Kendra, sisters Lena & Kristy, grandparents Don & Mary Jean, and Meredith & Maria took marked vehicles to begin a 130-mile drive to Seljalandsfoss waterfall to find their next clue behind a torrent of water. As the four Teams sped along the rural highway on a chilly early morning, the second and third planes landed, carrying the remaining Teams. Hayden & Aaron took an early lead in the second pack of seven Teams, while alliance mates Gus & Hera and Avi & Joe fell into last place. Soon, however, Gus & Hera and Avi &Joe caught up to Hayden & Aaron. Hayden was happy, but commented, "The problem with these alliances is that I feel like I'm worrying about four other people. This is a race. We're in it for us."
WRONG TURN
Cruising in the front of the pack, Freddy & Kendra, followed by Lena & Kristy, made a critical error by driving past Seljalandsfoss waterfall and continuing on to another waterfall. Realizing their mistake and turning around, a frustrated Kristy remarked, "This is exactly what we told ourselves not to do, and that is to follow people." A disappointed Freddy said, "We went from first to last like that." The alliance of Gus & Hera, Hayden & Aaron and Avi & Joe capitalized on Freddy & Kendra's and Lena & Kristy's mistake by arriving at Seljalandsfoss waterfall in first place, while Meredith & Maria also drove past it, convinced that Avi & Joe made a wrong turn. As the three Teams began traversed the steep landscape to the clue box behind the waterfall, the athletic married pro wrestlers Lori & Bolo pulled in and caught up to the alliance.
Opening their clues, the four Teams discovered they needed to drive over 260 miles to Europe's largest glacier, Vatnajokull. Once there, Teams must sign up for a glacier shuttle to take them 10 miles to the glacier's edge and their next clue. On the road to Vatnajokull, Hayden & Aaron passed Meredith & Maria, who were still looking for Seljalandsfoss, and signaled for the friends to follow them. A gleeful Aaron said, "Hopefully they'll follow us all the way to the glacier."
Eventually, all Teams, save the hopelessly lost Meredith & Maria, found their clue at the waterfall and headed to the glacier. The best friends only discovered their mistake when, at a gas station, they spoke to formerly dating couple Adam & Rebecca, who informed Meredith & Maria that the waterfall was an hour and a half in the opposite direction. Now squarely in last place, Meredith exclaimed, "I'm just nauseous that we're in this predicament."
After a road race that included many passes on the rural highway, Teams arrived at Vatnajokull and ran to sign up for a charter to the glacier's edge. Sliding into the first shuttle were Hayden & Aaron, Lori & Bolo and Lena & Kristy. Having been passed on the road, long-distance dating couple Kris & Jon had to settle for the second shuttle with Avi & Joe and Adam & Rebecca. After losing their way and bickering incessantly, Jonathan & Victoria boarded the third shuttle with Gus & Hera and Freddy & Kendra. Don & Mary Jean had the fourth shuttle all to themselves, and Meredith & Maria took a fifth shuttle, still well behind the other Teams.
Arriving at the imposing glacier's edge, Lori & Bolo, now in first place, opened their next clue instructing them to choose a marked snowmobile and drive it two and a half miles across the glacier to a camp, where they must spend the night. Once there, Teams must search the tents for shuttle times leaving the glacier the next morning. There were four times available: 10 am, 10:30 am, 11 am and 11:30 am.
After a wild ride across the glacier, Lori & Bolo and Lena & Kristy arrived at the camp tied for first. Lori & Bolo quickly claimed the 10 am shuttle, while Lena & Kristy grabbed a 10:30 am ticket without looking further. The sisters' mistake allowed Hayden & Aaron to grab the remaining 10 am ticket. Filling out the 10:30 am shuttle with Lena & Kristy were Kris & Jon and Avi & Joe. Freddy & Kendra, Adam & Rebecca and Jonathan & Victoria took seats on the 11 am shuttle, while Gus & Hera and Don & Mary Jean resigned themselves to the 11:30 am with Meredith & Maria, who had finally caught up with the other Teams.
While most Teams used the down time to relax and mingle, Jonathan & Victoria fought over their disappointing 11 am shuttle time. Jonathan insisted that Victoria needed to step up her game, prompting her to retort, "Maybe you should have taken someone else." Jonathan replied, "Maybe I should have."
ICY DETOUR
The next morning, Lori & Bolo and Hayden & Aaron took the first shuttle back to their marked cars, where they opened clues instructing them to drive over 20 miles to find the next Route Marker at Glacier Ice Beach. As the remaining Teams took their shuttle down from the glacier and began their drive, Hayden & Aaron and Lori & Bolo reached Glacier Ice Beach. Winning a footrace to the clue box, Hayden & Aaron ripped open their clue to find their first Detour.
A Detour is a choice between two tasks, each with its pros and cons. In this Detour, Teams had to choose between Ice Climb and Ice Search. Teams choosing Ice Climb must travel 35 miles, don special gear, trek across a glacier and, using ice axes, climb the face of a steep ice wall. Climbing the wall would be scary, but Teams could finish quickly. Teams opting for Ice Search must travel a short distance to a glacial lagoon, choose a boat and driver and search among thousands of icebergs for a buoy containing their next clue. There was nothing scary about the task, but searching the seven-square-mile lagoon could take a long time.
Both Lori & Bolo and Hayden & Aaron opted for Ice Climb, each convinced they could beat the other up the glacial wall. As the two Teams drove to the glacier, Lena & Kristy and Kris & Jon chose the Ice Climb as well, while Avi & Joe felt the Ice Search, being considerably closer, would be the better task.
As Avi & Joe boarded their boat to search the vast lagoon, Hayden & Aaron and Lori & Bolo arrived at the glacier to begin their climb. It was ladies first as Hayden and Lori battled each other in their ascent up the sheer ice wall. After the women finished neck and neck, Aaron and Bolo began to climb. The race was close, but Bolo eventually pulled ahead and the married pro wrestlers opened their next clue, which instructed them to drive 200 miles to the Blue Lagoon, the Pit Stop for this leg of the Race.
As Hayden & Aaron and Lori & Bolo began their drive to the Pit Stop, Avi & Joe continued to search the lagoon for the buoy containing their clue. Meanwhile, Jonathan & Victoria also selected Ice Search, while Adam & Rebecca and Freddy & Kendra headed to Ice Climb. While Avi & Joe began to show signs of frustration, Jonathan & Victoria quickly found the buoy and headed to the Pit Stop, as did Lena & Kristy and Kris & Jon after completing the Ice Climb. The endless lagoon with no buoy in sight caused Joe to quip, "Avi, we're morons." With Don & Mary Jean and Meredith & Maria driving to the Ice Climb and Gus & Hera taking a boat in the lagoon, Avi & Joe finally found the buoy and started the journey to the Pit Stop. As Gus & Hera spotted the buoy, Don & Mary Jean found themselves in a last-place tie with Meredith & Maria after both Teams completed the Ice Climb.
With all Teams en route to the Pit Stop, several pairs began to show cracks in their relationship. After starting with a sizable lead, Lori & Bolo got lost, prompting a fight when Lori criticized Bolo's navigational skills. An angered Bolo snapped, "You don't know when to shut up!" Jonathan & Victoria continued bickering over directions until a local pointed them toward the correct path. While most Teams chose to take the main highway to the Blue Lagoon, Avi & Joe opted for smaller back roads, a more direct route, in hopes of making up time.
Pulling into the Blue Lagoon, Hayden & Aaron ran along the rocky path to where Phil waited next to the clear blue water. Stepping onto the mat in first place, Hayden & Aaron were rewarded with a trip to beautiful Hawaii, compliments of American Airlines' website, AA.com. On their victory, Hayden remarked, "We're so pumped up right now. We're thrilled for what's to come."
As Kris & Jon and Lena & Kristy finished in second and third place respectively, Adam & Rebecca encountered a major setback when they filled their diesel engine vehicle with gasoline. Realizing the mistake before driving off, the stunned pair had to wait while the mechanic drained their gas tank. This error forced the couple to the back of the pack with Don & Mary Jean and Meredith & Maria.

ELIMINATION
As Freddy & Kendra, Jonathan & Victoria and Lori & Bolo arrived at the Pit Stop in the fourth through sixth positions, the race to avoid elimination kicked into high gear. With Gus & Hera and Avi & Joe pulling into the Blue Lagoon parking area, Adam & Rebecca, Don & Mary Jean and Meredith & Maria jostled for position on the highway, knowing a footrace would determine their fates. In the end, however, those three Teams would not be battling to avoid elimination because Gus & Hera and Avi & Joe realized they were in the wrong parking lot when they saw the flags in the far distance across the lagoon.
As the alliance partners Avi & Joe and Gus & Hera raced to the Pit Stop, Adam & Rebecca took seventh place in a photo finish with Meredith & Maria and Don & Mary Jean, who finished in eighth and ninth place, respectively. Ultimately, Gus & Hera edged out Avi & Joe for tenth place. Stepping onto the mat in last place, Avi & Joe became the first Team eliminated from THE AMAZING RACE. On his experience, Joe remarked, "We did things that just were inconceivable for me to do. THE AMAZING RACE showed me you can do anything." Avi added, "This is definitely one of the best experiences of my life on this Race. I got to do it with my best friend."