NEWS

Septmber 7 2021 - Skaftá Glacial Outburst Flood to Reach its Peak
A second glacial outburst flood began in the eastern Skaftá ice cauldron under Vatnajökull glacier late Saturday evening. This flood follows a smaller one that originated in the western Skaftá ice cauldron and is expected to do as much damage to local communities and farmland as the last glacial outburst flood on the Skaftá river in 2018. The Department of Civil Protection is strongly advising that travelers stay away from the area and has raised their emergency response level to Alert Phase.
Floods in Skaftá are sourced from two ice cauldrons, formed due to persistent geothermal activity beneath Vatnajökull. On average, the cauldrons drain every two years, producing floods of up to 1,500 cubic metres per second. When the interval between floods is short, the flood tends to be smaller. The eastern cauldron is responsible for the largest floods. The river has flooded at least 58 times since 1955, with each cauldron usually draining at a two-year interval.
December 20 2017 - Öræfajökull Caldera Continues To Deepen
The newly formed caldera at Öræfajökull glacier continues to deepen.
According to geologists, this either means that there is still heat present underneath the glacier, or that the caldera is emptying itself. It is currently estimated to be approximately 22 meters (72 ft) deep.
Öræfajökull hasn't erupted for nearly 300 years (1727), but recent weeks have shown increased activity in the area. A new caldera emerged in the glacier nearly two weeks ago.
Prior to its eruption back in 1362, the glacier was called Knappafellsjökull. That eruption completely destroyed the nearby farmland, renaming the glacier Öræfajökull. Öræfi translates to wasteland.

Oktober 4 2017 - Steinavötn Bridge On Ring Road One Opens For All Traffic
The temporary bridge over Steinavötn river opened for all traffic today. The original bridge [image] had been damaged by extensive flooding last week due to heavy rain in late September. Workers have worked day and night so that travellers may cross the bridge. Ring Road One, the main highway in Iceland, has been closed for car traffic between Jökulsár glacial lagoon and the town of Höfn. It was impossible to bypass the closure except by driving all the way around Iceland on Ring Road One.
The new bridge is a single lane one as the original from 1964 and travellers have been asked to proceed with caution while crossing it. It is 104 metres long and the base is wooden poles that steel beams rest upon. A wooden flooring is then placed on top of the base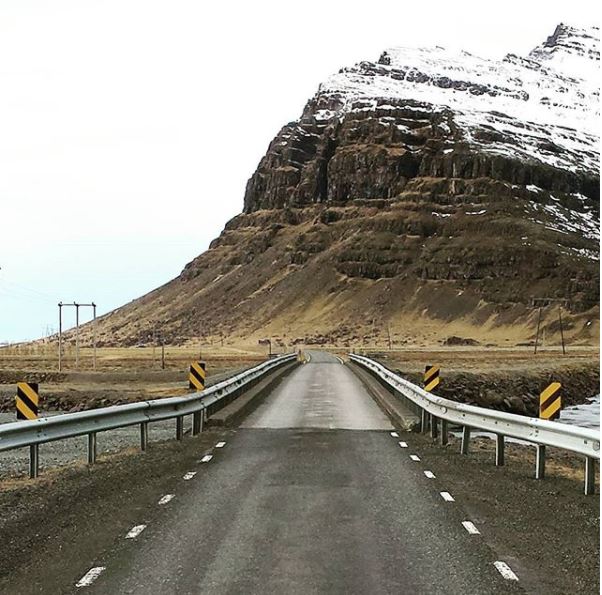 July 25 2017 - Jökulsárlón Declared Nature Reserve
One of Iceland's most popular and beloved natural sites, the Jökulsárlón glacial lagoon, will officially become a nature reserve today and part of Vatnajökull National Park. With the addition of the lagoon, the park will now stretch from Vatnajökull's highest peak Hvannadalshnjúkur down to the sea.
The purpose of endowing the lagoon with protected status is to ensure that Vatnajökull National Park continues to grow. The park will now be responsible for supervision and upkeep of the area around the lagoon. "A reception for guests and sanitation facilities need to be built for the 700,000 visitors who come to the area annually."
Land encompassing the eastern part of the lagoon, was privately owned until January, when it was purchased by the Icelandic government.

February 21 2017 - Whale Watching in Iceland
The whale watching tours started in Höfn, In The Realm Of Vatnajokull, by Glacier Tours company. In following table you can see the growth in whale watching in Iceland. How will whaling affecting whale watching in the future?

| | | | |
| --- | --- | --- | --- |
| | Place | WWC | Pers. |
| 1990 | 1 | 1 | 6 |
| 1991 | 1 | 1 | 100 |
| 1992 | 0 | 0 | 0 |
| 1993 | 1 | 1 | 150 |
| 1994 | 3 | 4 | 200 |
| 1995 | 6 | 8 | 2.200 |
| 1996 | 8 | 9 | 9.700 |
| 1997 | 10 | 13 | 20.540 |
| 1998 | 8 | 12 | 30.330 |
| 1999 | 7 | 10 | 35.250 |
| 2000 | 9 | 12 | 44.000 |
| 2001 | 10 | 12 | 60.550 |
| 2002 | 10 | 12 | 62.050 |
| 2003 | 10 | 12 | 72.220 |
| 2004 | 10 | 12 | 81.600 |
| 2005 | 10 | 12 | 81.600 |
| 2006 | 10 | 12 | 89.000 |
| 2007 | 9 | 10 | 100.000 |
| 2008 | 9 | 10 | 115.000 |
| 2009 | 9 | 10 | 125.000 |
| 2010 | | 10 | 115.000 |
| 2011 | | | 130.000 |
| 2012 | | | 175.000 |
| 2013 | | | 200.000 |
| 2014 | | 10 | 230.000 |
| 2015 | | 13 | 272.000 |
| 2016 | | 14 | 354.000 |

Source: Björgvinsson, 1999, 2006; Hoyt, 1994b; Hoyt, 1995a; Data from SI and Icewhale
September 1 2016 - Northern Lights Season Begins
It's September 1st and the northern lights made a spectacular comeback at midnight after a summer break.
The northern lights are one of the biggest draws to visiting Iceland, however they are also one of the most elusive and unpredictable attractions this country has.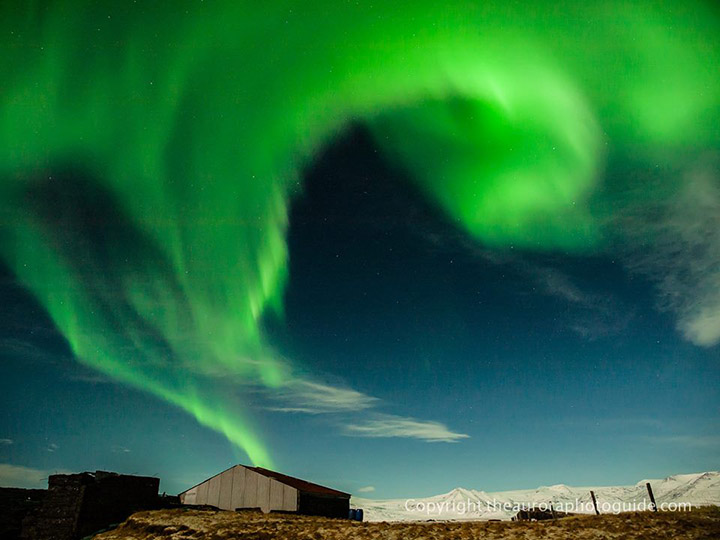 April 11 2016 - Whale Watching in Iceland The whale watching tours started in Höfn, In The Realm Of Vatnajokull, by Glacier Tours company. In following table you can see the growth in whale watching in Iceland. How will whaling affecting whale watching in the future?

| | | | |
| --- | --- | --- | --- |
| | Place | WWC | Pers. |
| 1990 | 1 | 1 | 6 |
| 1991 | 1 | 1 | 100 |
| 1992 | 0 | 0 | 0 |
| 1993 | 1 | 1 | 150 |
| 1994 | 3 | 4 | 200 |
| 1995 | 6 | 8 | 2.200 |
| 1996 | 8 | 9 | 9.700 |
| 1997 | 10 | 13 | 20.540 |
| 1998 | 8 | 12 | 30.330 |
| 1999 | 7 | 10 | 35.250 |
| 2000 | 9 | 12 | 44.000 |
| 2001 | 10 | 12 | 60.550 |
| 2002 | 10 | 12 | 62.050 |
| 2003 | 10 | 12 | 72.220 |
| 2004 | 10 | 12 | 81.600 |
| 2005 | 10 | 12 | 81.600 |
| 2006 | 10 | 12 | 89.000 |
| 2007 | 9 | 10 | 100.000 |
| 2008 | 9 | 10 | 115.000 |
| 2009 | 9 | 10 | 125.000 |
| 2010 | | | 115.000 |
| 2011 | | | 130.000 |
| 2012 | | | 175.000 |
| 2013 | | | 200.000 |
| 2014 | | 10 | 230.000 |
| 2015 | | 13 | 272.000 |

Source: Björgvinsson, 1999, 2006; Hoyt, 1994b; Hoyt, 1995a; Data from SI and Icewhale
Januar 11 2016 - Melting glaciers
The glacial melt, which is happening at a faster rate than earlier believed.
Global warming lead to higher sea level, ocean acidification and melting of glacial ice in Iceland is causing uplift and may lead to more frequent eruptions.

November 6 2015 -Watch a giant chunks of ice break off Svínafellsjökull glacier
A group of hikers by Svínafellsjökull glacier in South Iceland managed to capture on video when a huge chunk of ice brok off the edge of the glacier.
The video shows where the giant chunks fall into the mud and melt water below, rolling and sliding away from the glacier, before turning back upright.
See on YouTube
February 3 2015
Two drones piloted by aerial experts brought a one-of-a-kind view into an erupting volcano live today on "Good Morning America."
The drones flew over the erupting Bardarbunga Volcano in central Iceland. The volcano is located on the northern edge of the Vatnajokull Glacier and National Park. The Vatnajokull Glacier is, at over 5,000 square miles, the largest glacier in Iceland, covering 10 percent of the country. Good Morning America
Twitter #GMADroneShow
December 22 2014 - 13,7% tourist pay for Glacier or snowmobile tour
In visitor survey from Icelandic Tourist Board, result shows 13.7% of tourist went for Glacier or snowmobile tours. It was in question: "What activities did you pay for during your trip to Iceland?"
General interests in nature or country is the main idea of coming to Iceland, 46,5% tourist gave this reason. See: Visitors Survey Summer 2014
December 9 2014 - Holuhraun Eruption 100-Days-Old
Today marks 100 days since the ongoing volcanic eruption in the Icelandic highlands began.
There have been insignificant changes at the eruption site in recent weeks, but that seismic activity remains strong.
Scientists currently believe the eruption will probably continue until the subsistence at Bárðarbunga ceases—meaning the eruption could continue for several more months.
A volcanic eruption in the Bárðarbunga caldera is also still a possibility. Such an eruption would melt large quantities of ice, leading to a major jokulhlaup, accompanied by ash fall. Other scenarios cannot be excluded.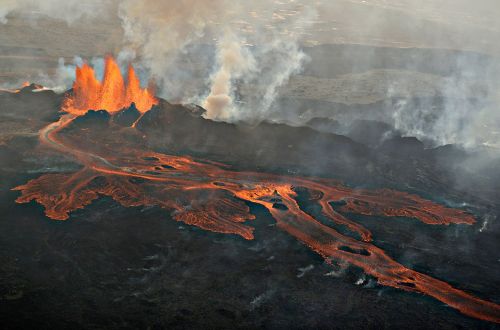 Photo: Haukur Snorrason

August 31 2014 - Another eruption in Holuhraun
Anot­her small fissure eruption has started in Holuhraun, about at the same position as the eruption on Friday morning. Almost no tremor is seen on seismometers.
Scient­ists are in the area and believe the rift has reached further north. The Met Office has issued a code red aviation warning around Houlhraun.
The eruption started at around 05:05 GMT this morning, in the same rift as Friday. Víðir Reynisson, Civil Protection Department manager, says that it is hard to see the eruption because of weather conditions in the area.
The last erution in Holuhraun lasted for four hours.
August 29 2014 - An eruption has started north of Dyngjujökull
An eruption has started near Bárðarbunga. The Met Office has confirmed this. The eruption is an lava eruption.
A fissure has started north of Dyngjujökull, in Holuhraun. The eruption has been confirmed by scientists in the field. The rather small lowfrequency tremor suggests the eruption is located outside the glacier.
The crater is believed to be a 1 kilometer long rift bearing NA-SV. No flood has been detected; the eruption is not sub-glacial.
August 22 2014 - Strongest earthquake yet in Bardarbunga
A 4,7 magnitude earthquake was detected in the Bardarbunga caldera shortly before midnight last night, the strongest one yet. Seismic activity has however been decreasing since midnight, according to the Icelandic Met. Office. The quake is associated with pressure changes beneath the caldera.
From midnight until 6.30 this morning, nearly 400 seismic events had been automatically detected around Bardarbunga; most of them in the eastern cluster, towards Kverkfjoll. According to the Icelandic Met. Office, the activity decreased after 2.00 GMT and even more between 6 - 7 GMT.
August 19 2014 - Possible volcanic eruption in Iceland
A powerful volcano, Bárðarbunga, might erupt in the Highlands of Iceland. The Icelandic Met Office has upgraded its aviation alert status to orange, meaning that a "volcano shows heightened or escalating unrest with increased potential of eruption." Seismic acti­vity is of­ten the precursor of an erupti­on
The orange alert is the second highest alert status. The next alert level, red, means that an eruption is either imminent or in progress. Bárðarbunga last erupted in 1910 (Þórðarhyrna), but a nearby volcano erupted in 1996.
August 17 2014 - Earthquakes at Bardarbunga (Bárðarbunga)
The earthquake swarm at Bárðarbunga volcano continues. Several hundred earthquakes have been detected since 03am yesterday morning. Since midnight today, most events cluster in two areas, east of Bárðarbunga and around Kistufell. The strongest events during the night were M3.4 at 02:52am and M3.5 at 06:21am SE of Kistufell.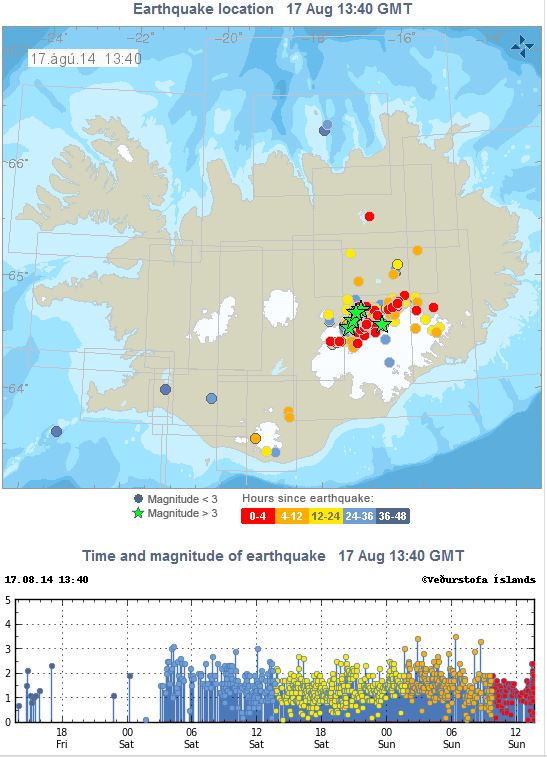 Photo: Icelandic Met Office

August 05 2014 - Level of Uncertainty at Sólheimajökull
A level of uncertainty has been declared at Sólheimajökull glacier (a part of the Mýrdalsjökull glacier, 4th biggest) in South Iceland. The glacier's edge has risen 1.5 meters (4 feet, 11 inches) in recent days.
It is considered possible that a large piece of the glacier's edge may break off causing a tidal wave in the underlying lagoon.
The car park at Sólheimajökull is closed and people are urged to keep away from the immediate vicinity.
June 28 2012 - Iceland a Platform for UN Glacier Awareness Project
Iceland will become a platform for Vox Naturae, an international project intended to raise awareness of the important of ice and glaciers for humankind. The project will be launched with a light and audio show in Vatnajökull National Park in September 2013.
Vox Naturae was presented at a United Nations environmental congress in Rio de Janeiro last week. Some of the world's leading environmentalists are on its steering committee, including Zafar Adeed, UN managing director for water, environment and health.
Light artists will design a show running for approximately half an hour, lighting up Svínafellsjökull glacier. Music by Bergljót Arnalds based on the sounds of glaciers will be played in the background. The event will be broadcast live around the world.
"The purpose is to raise awareness of glaciers, how magnificent and important they are. Glaciers are the source of water for more than one sixth of the world's population," stated Páll Ásgeir Davíðsson, the project's managing director.
"But we are also highlighting that the world is changing," he added. "We should use art to raise awareness of the fact that the glaciers are disappearing and we are in fact urging people to take action with this event."
"The basic idea is that we're lending a voice to the glacier and according to the response I got, the glacier's voice is very strong," Páll Ásgeir said of the reaction to the project at the UN conference. "It will be very exciting to work on it in the coming months."
The basis of the project was laid by Páll Ásgeir, Bergljót and Northern Lights Energy. Other parties involved include various international institutions and world renowned environmentalists.
June 12 2012 - Grímsvötn Volcanic Eruption Causes Glacial Melt
Geophysics professor Magnús Tumi Guðmundsson said there are still consequences from the May 2011 eruption in Grímsvötn, a sub-glacial volcano in Vatnajökull in southeast Iceland, including more rapid melting of the icecap.
There is a 45°C (113°F) hot lagoon on the glacier's surface, an uplifting by three centimeters has occurred as the icecap decreases and the water surface of glacial rivers continues to rise
"We assume that significant melt will occur in the western Vatnajökull this summer," predicted Magnús Tumi, who recently returned from a research expedition to Grímsvötn on behalf of the Glacial Research Association.
During the expedition, researchers sailed on the lagoon in Grímsvötn. "It is remarkable because it's very hot. In the crater there was a little stream with 45°C warm water. A few hundred meters wide part of the lagoon was at bathing temperature, 25-40°C."
"The eastern part of the lagoon is considerably colder, yet lukewarm, which is noteworthy given that it is surrounded by a wall of ice," Magnús Tumi continued. The high temperature is a leftover from the eruption last year.
And the ash fall continues. During dry and windy conditions, ash will blow across south Iceland this summer and even longer.
Large drifts of ash have accumulated by the Ring Road in south Iceland. Drivers are asked to be careful because the ash might blows across the road and block visibility.
March 19 2012 - Tourists Rescued from Glacier
Two Belgian tourists were rescued from Vatnajökull-glacier last Saturday night. Temperatures dropped to -20 C° and conditions on the glacier were windy. The wind chill factor meant that temperatures were closer to around -35 C°.
The Coast Guard received the first emergency signal after 10 pm Saturday night. A rescue team with two cars and four snowmobiles was sent from Hornafjörður and the Coast Guard's helicopter was sent from Reykjavík. Due to the cold, all the rescue workers who drove the snowmobiles to the scene suffered from minor frostbite to their faces, despite being very well equipped.
Click here to view a video from the rescue scene, published by ruv.is.
Jan 14 2012 - Icelandic Photographer Charms Brits with Ice Caves
"It all started with an eruption," said hobby photographer and mechanical engineer Skarphéðinn Þráinsson, whose photographs of ice caves have been published in the British media lately, followed by his series of the volcanic eruption in Eyjafjallajökull.
"The eruption series traveled widely," Skarphéðinn told visir.is. They caught the attention of an agency in the UK and Skarphéðinn continued to send them his photographs, which have been published in The Daily Mail and The Sun, among other national newspapers.
Skarphéðinn, whose day job is at the engineering firm Verkís, said he enjoys taking trips to the country to shoot photos of nature.
His ice cave photos were taken in the Kverkfjöll mountain range and near the Vatnajökull sub-glaciers Svínafellsjökull and Breiðamerkurjökull.
He uses a Canon EOS 5D camera and takes the photos in ten to 20 seconds which enable the camera to soak up the light and create a "breathtaking" effect; the photos are hardly processed at all afterwards.
Icecave news in Icelandic from visir.is
MailOnline - article and great pictures
Skarpi website
Jan 2 2012 - Jokulsarlon and my camera
Runólfur Hauksson or RonniHauks is photographer and captain on boats running on Jokulsarlon. Ronni has made photographic book at Blurb.com.
You are welcome to visit the website and look at the book with amazing pictures from the Glacial lagoon, Jokulsarlon.
See Ronni Hauks personal website at, www.blurb.com
December 24 2011 - 140.000 visit Jokulsarlon web cam every week
EarthCam.com has named Jokulsarlon in Top 25 interesting webcams 2011. Every week, 140.000 visits are to the amazing Glacier lagoon.

Mila.is webcam.
December 10 2011 - Swiss Photographer's Unique Aurora Images
Professional landscape photographer Stefan Forster from Switzerland said his dream came true in southeast Iceland in March 2011 when he witnessed how the northern lights lit up the icebergs from the Jökulsárlón glacial lagoon on the black plains of Breiðamerkursandur—and was able to catch the magical moment on camera.
"I slept in the car for five days and all night long I set the alarm clock at an interval of ten minutes so that I wouldn't fall asleep," he wrote icelandreview.com. "In the last night there was awesome activity and this image was taken."
See Stefan's Forsters website, www.stefanforster.com
More news on website: www.icelandreview.com
December 3 2011 - Game of Thrones
HBO's "Game of Thrones" television series, based on A Song of Ice and Fire. The TV series is filmed at Svinafellsjokull outlet In the Realm of Vatnajokull ice-cap. The interview starts in Icelandic but you can see great shoots and interview with producers.

Kings, queens, knights and renegades use schemes and swords to battle for the throne.

Game of Thrones - Interview.
December 1 2011 - ICE VISIONS - The Book About Ice
ICEVISIONS is a self-published large format book of ice photographs with text and selected literary quotations in English, French, German, and Icelandic. Klaus Kretzer, author, photographer, and publisher, has achieved a masterpiece of photographic art ranging from landscapes of Jökulsárlón, the famous rapidly enlarging glacier lake in southeast Iceland, and its mountain backdrop, together with exquisite, often abstract close-ups of ice in many forms.
Eis – ein Phänomen, dem seit Menschengedenken etwas Mysteriöses innewohnt, dessen Existenz die menschliche Fantasie beflügelt und dessen physikalische Eigenschaften uns bis heute in Staunen versetzen.
Situé dans le sud-est de l'Islande à la bordure sud du Vatnajökull, le lagon glaciaire de Jökulsárlón compte parmi les sites touristiques les plus visités. La langue glaciaire du Breiðamerkurjökull vêle dans la partie supérieure du lagon et un très court chenal le relie à la mer, témoins de changements incessants qui ont eu lieu depuis son apparition dans les années 30.
Website: ICEVISIONS
November 17 2011 - 512 Quakes Near Katla Volcano in October

A total of 512 earthquakes hit below the Mýrdalsjökull icecap in south Iceland in October underneath which the volcano Katla lies, according to the Icelandic Meteorological Office. Approximately 380 thereof had their epicenter in the Katla caldera.
The other earthquakes either had their epicenter in the western part of the glacier or below the sub-glacier Hafursárjökull south of the Katla caldera
On October 5, a sharp series of earthquakes began in the northeastern part of the Katla caldera, just south of Austmannsbunga. The largest quake in the series, which hit shortly after 4 am was approximately four points on the Richter scale.
A total of seven earthquakes that measured three points or more on the Richter scale were picked up by sensors in the area last month. A few were just below three points and tens of quakes were stronger than two points on the Richter scale.
November 01 2011 - Game of Thrones Prepares for Shooting in Iceland
Filming of one of the most-talked-about series on American television these days, Game of Thrones, will take place in Realm of Vatnajokull, at the end of this month.

The HBO series, which is based on the stories of George R.R. Martin, has proven a big hit in the US and has also been aired on Icelandic television
Rumors have long been circling that shooting for the series would take place in Iceland. According to a fan page , the choice was between Iceland and Morocco but eventually Iceland was picked as a location for the show.
Iceland filming location revealed
Október 30 2011 - Best Trips 2012
National Geographic Traveler magazine has a recommendation for you, visit Iceland.

On National Geographic site they say, "A final relic from the world's last ice age, this North Atlantic island nation is a world of knife-cut valleys, gargantuan fjords, monumental cliffs, black-sand beaches, thundering waterfalls, and silent white glaciers. Recent volcanic eruptions remind us that Iceland is still a country in the making, with changed landscapes that even Icelanders continue to discover."
Október 29 2011 - Best In Travel - Iceland And the winner of the Best in Travel Readers' Choice award 2012 is…Iceland

Every year, Lonely Planet publish Best in Travel, Lonely Planet's picks for the top destinations of the coming year. It's a long, involved process and, like laws and sausages, you probably don't want to know what goes in to it.
And the winner of the Best in Travel Readers' Choice award 2012 is…Iceland
Október 21 2011 - Midnight Sun in Iceland
Joe Capra is professional photographer. He travelled for 17 days in June in Iceland. You can see the result in Vimeo

Iceland is a landscape photographers paradise and playground, and should be number 1 on every photographers must visit list. Iceland during the Midnight Sun is in sort of a permanent state of sunset. The sun never full sets and travels horizontally across the horizon throughout the night
Joe Capra advice to everyone out there, photographer or not, is simple... You MUST visit Iceland sometime during your lifetime. You will never regret it.
Vimeo - SCIENTIFANTASTIC and Joe's Flickr website
Október 16 2011 - Photos from Jokulsarlon - Glacier lagoon
Runólfur Hauksson is captain on boats operating on Jokulsarlon and zodiac boats. He is also photograper and he has album on flickr with over 1.000 great pictures showing live on Glacier lagoon.

See slideshow of Ronni Hauks great pictures from Glacier Lagoon - Jokulsarlon!
See overview of Ronni Hauks great pictures from Glacier Lagoon - Jokulsarlon!

September 22 2011 - Friends of Vatnajokull
FRIENDS of Vatnajökull is a nonprofit fund-raising association for Vatnajökull National Park. The role of the association is to raise funds to support research, as well as promotional and educational activities, to ensure that as many people as possible can enjoy the natural and historical phenomena the National Park has to offer.

Everyone can become a FRIEND!