Ice tour
In this tour we drive to the tip of an outsled glacier, put on crampons, and with ice axe in hand we make about 2 km guided excursion onto the glacier. Optionally, also short ice climbing route to try, using ropes and climbing equipment to ensure complete safety. No exceptional fitness nor climbing experience is needed, only guts!
Equipment provided crampons, ice axe, helmet and harness
Time of year April to October (not on Sundays)
Group size 1 to 4 people (November to March)
Duration 3-5 hours
Price €199
For more advanced climbers we can concentrate on the ice climbing. All around the year it is possible to find very demanding climbs in the glaciers of Öræfi, and in the winter there are often good possibilities for waterfall
ice climbing. We offer a whole day Ice Climbing Course for 1 or 2 clients at
a time.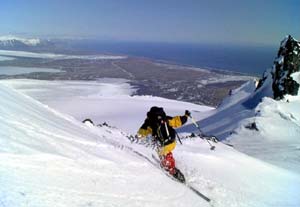 Telemarking down Öræfajökull
Photo: Florian Piper